Posted on
Posted in activities, coffee, Explore, Hazel Baby, Jersey City, Jersey City Parks, kids, Mommy, Outdoors, Outside, Parks, Play, Play place, Playground, preschool, toddler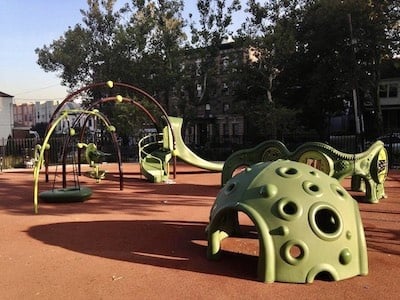 Jersey City Mama Courtney Kennedy Haas has created a bucket list of parks you have to check out this summer. This list of parks, including a few hidden gems, are great for the whole family. These parks aren't all selected because they have a playground but because they are located next to a few great coffee shops and have amazing splash pads. These parks truly can be enjoyed by the whole family.

Heading into summer break there is a feeling of excitement, relief, and a bucket list of all the fun we want to have before school starts up again. For some parents though, the thought of summer brings new obstacles whether that is juggling camp schedules or trying to figure out how you'll entertain your kids all day while also enjoying yourself. Since summer is in full swing, let's talk about making the most of these days here in Jersey City.
And I don't mean just fun for the kids, let's talk about how you can enjoy it too! Living in Jersey City we have access to a wonderful array of parks and playgrounds in every neighborhood that all offer something a little different. Our park days usually include coffee and a treat, anyone else? My kids are very outspoken on which parks they want to go to and when. It's all about mood and my oldest, who is 4, remembers every detail of a play structure. We tend to frequent Enos Jones, Mary Benson, Berry Lane, Van Vorst, and Hamilton Parks. Lately, we've also been driving to Lincoln Park to mix it up. So I've rounded up some of our favorite spots and where you can get a local treat nearby to round out your summer day.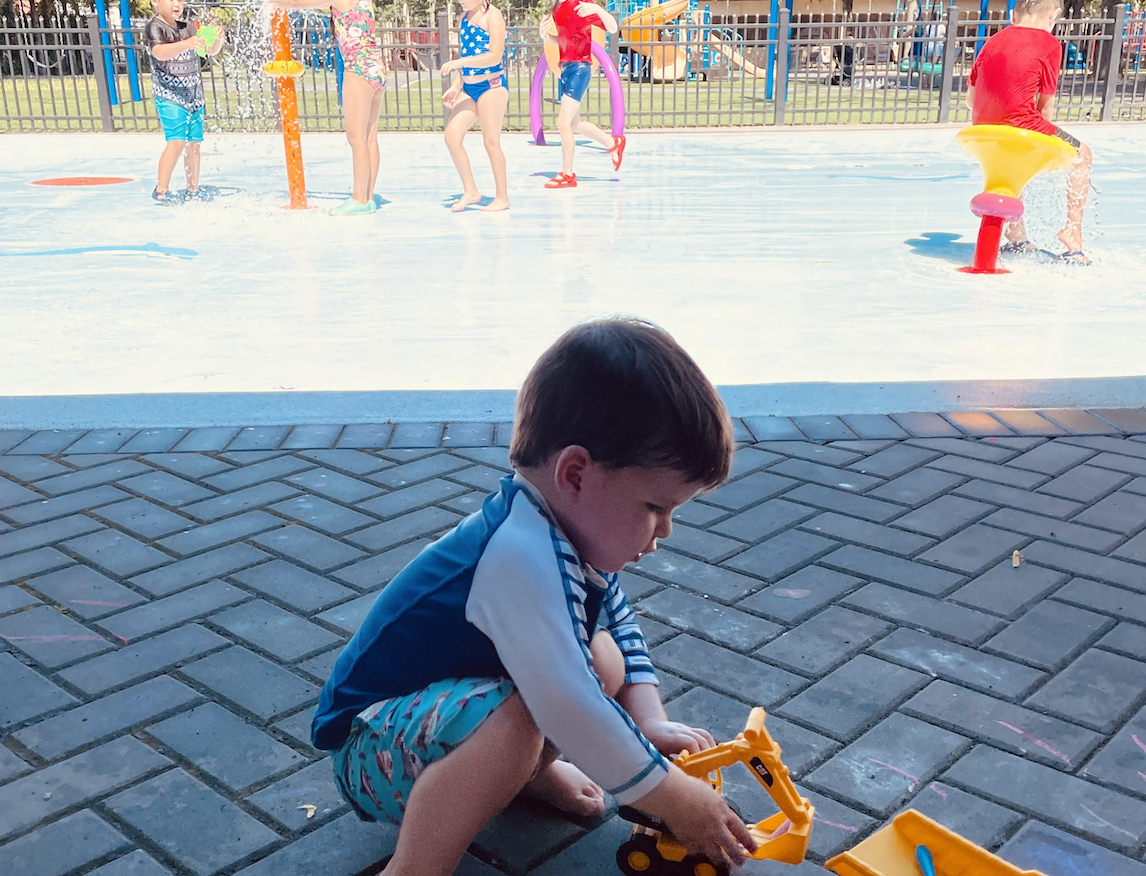 Let's start by cooling off at Lincoln Park. We all know how vast of a space Lincoln Park holds in Jersey City (two playgrounds, sports facilities, green space, fountains…) but have you guys been to this splash pad? One may use the word epic. Yep, I said it. First, size: it's large. Kids can run free and there's big and little fountains for kids of all ages to enjoy. Second, it's fenced in with a small, safe for most ages, playground which was designed for children with special needs in mind. It's the whole package. But that is not all. The real treat? That's for us parents. The pavilion overlooking the park is chock full of benches. Yes, fully shaded benches. Game changer! It's comfortable to sit outside while your little has a blast running through the water. If you're driving there you can pop into Snapdragon Cafe, Treehouse Coffee Shop or even Baonanas to treat yourself.
If you find yourself in the McGinley Square neighborhood and need to let some energy out there is an adorable little playground at Boyd-McGuiness Park. Perfect for toddlers, fully fenced in, and my 2yo finds plenty to entertain him at this small gem including a small splash area. Nearby you can walk to get your caffeine fix at Crema. They serve other fresh bites, pastries, and ice cream! What's summer without all the ice cream?
My family and I love to visit the farmer's market at Riverview Fisk Park in The Heights, and while that playground is great and the park has undergone major upgrades (go check it out!) I want to mention a little known park nearby, Janet Moore park. It's quaint, and cozy nestled at the end of Ogden Ave. The structure is fun for the kids and it's easy to keep an eye on them. It's also not too far from Milk Sugar Love… again with the ice cream.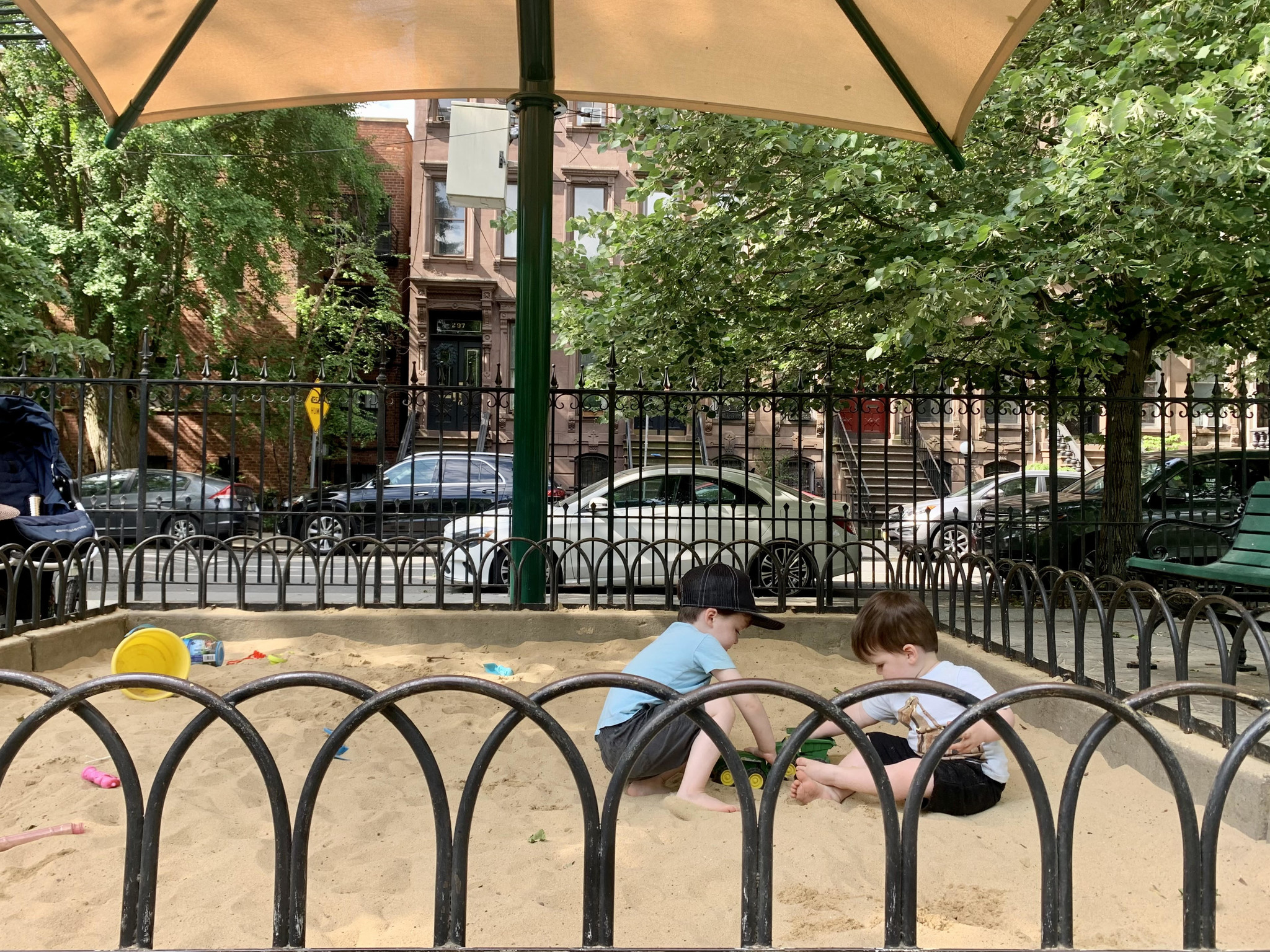 If you're typically strolling downtown with your little, know that there is always a park nearby. Morris Square park, Mary Benson Park and Van Vorst Park come to mind for us. Van Vorst Park offers a playground that pushes the kids to climb, a small splash pad, swings and sandbox for your little - and all individually fenced in. Unpopular opinion alert: the sandbox is my favorite part. Since they revamped it post-Covid they've added a sunshade so I don't have to fret over sunscreen plus it stays rather cool. In addition, they changed out the sand which makes me feel good about my boys sitting in there for an extended period of time while I sip some iced coffee (are you noticing a pattern here?). Snag that iced coffee and a small bite from Short Grain or Sober Shot on your way!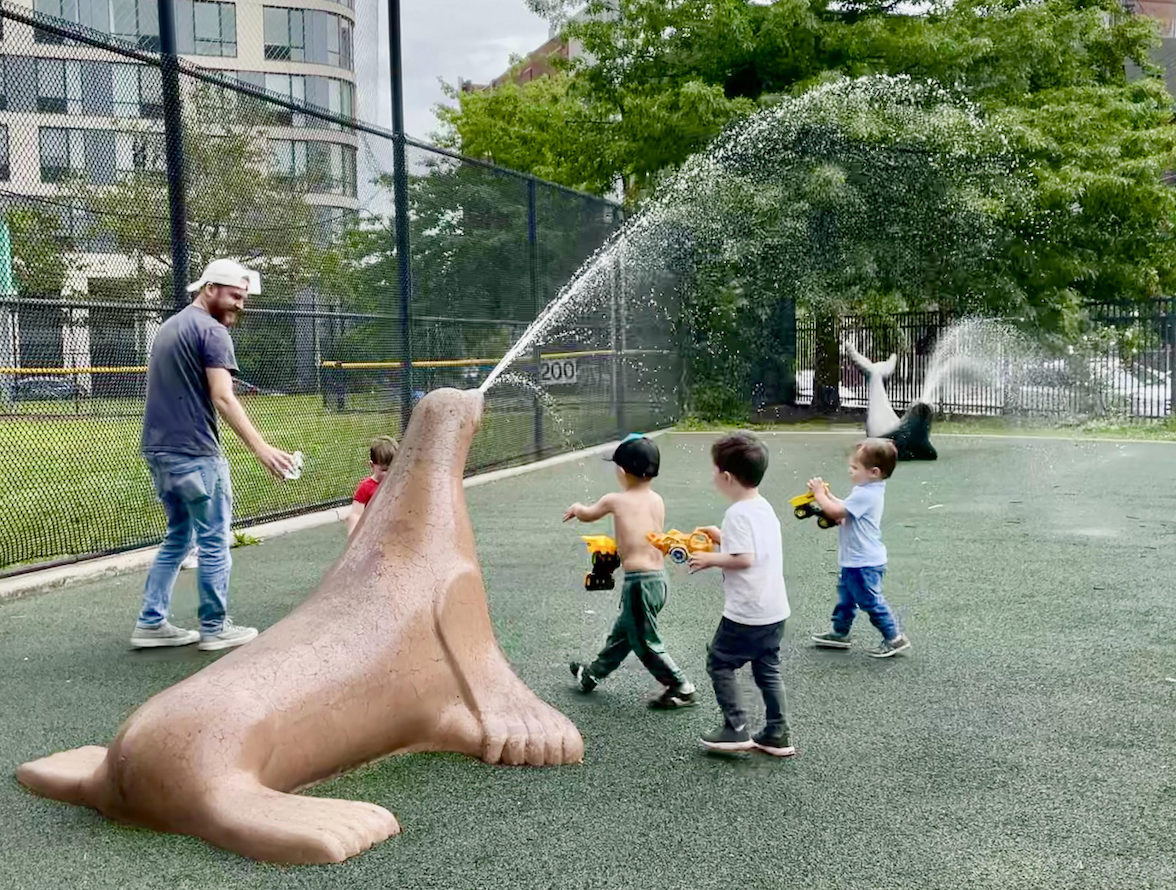 Not too far from downtown is Enos Jones Park and Hamilton Park. I love Enos Jones because the play structure is relatively safe even for my 2yo to explore freely and the splash area is in the fenced-in playground area. For the older kids, there is a newly updated skate park, though they have removed the ramps. Hamilton has a very large, fully fenced-in playground with something for all ages, as well as a fully fenced-in splash pad. There is a toddler-specific structure, separately fenced in, that includes a small fountain - this area is particularly fantastic if you prefer to 'sitter-vise' your child as they can't get too far… Hamilton Park is amazing, the amount of open green space for picnics, mostly shaded due to the mature trees, the playground and the selection of restaurants and cafes that line the park make it a great family stop. You could swing into Hazel Baby to see what's new too!
There are SO many other parks in Jersey City to love! What are some of your favorites? We'd love to hear from you, if you're willing to share… 
Written By Local Mama - Courtney Kennedy Haas
Courtney Kennedy Haas is @thatmominjersey who always knows where to go and how to survive the trip with 2 kids. A local Jersey City mom to two boys, ages 2 and 4. When she's not park hopping, building racetracks or making snacks she enjoys photography and design.